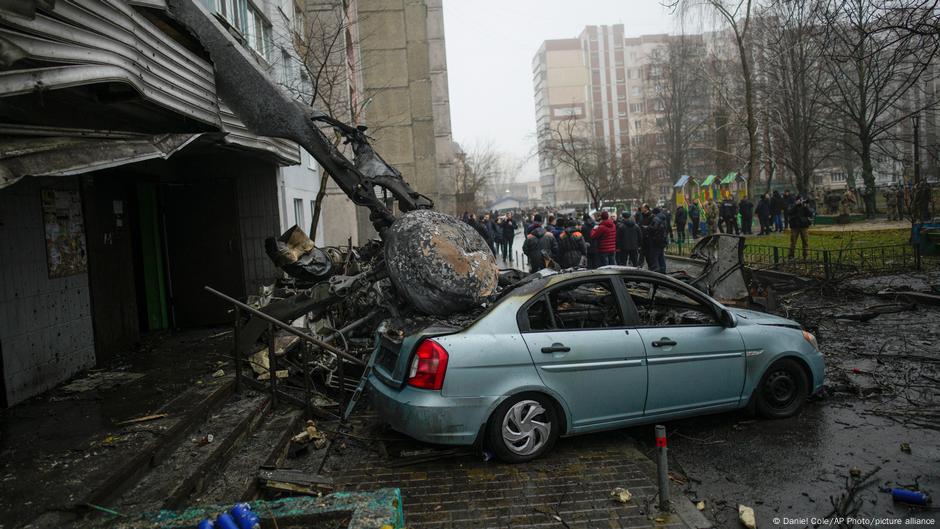 A helicopter crashed into a building near a kindergarten in the city of Brovary outside the Ukrainian capital on Wednesday morning, killing the Interior Minister Denys Monastyrskyi, his deputy, and a state secretary. 
According to Ukrainian emergency services writing on the Telegram messaging app later Wednesday, at least 14 people were killed in the crash, including one child. Nine of the victims were on board the helicopter. Officials had earlier reported three children were killed. 
A further 29 people were injured, 15 of them are children, Kyiv regional governor Oleksiy Kuleba said on Telegram.
"Children and the employees of the kindergarten were there at the moment of the tragedy," he said, adding that they have since been evacuated.
The helicopter was flying towards frontline regions in eastern Ukraine, according to the deputy head of the Ukrainian presidential office, Kyrylo Tymoshenko.
"The purpose of the helicopter flight was to carry out work in one of the hotspots of our country where hostilities are ongoing. The interior minister was heading there," Tymoshenko, said.
Officials said it the cause of the crash is currently under investigation. The has been no fighting reported recently in the Kyiv region.
Ukraine's Prime Minister Denys Shmyhal said that the head of Ukraine's national police, Ihor Klymenko, has been appointed deputy interior minister, and will serve as the acting interior minister. 
The helicopter heavily damaged a buildingImage: Igor Burdyga/DW
Ukrainian President Volodymyr Zelenskyy described a fatal helicopter crash as "a terrible tragedy."
"Today, a terrible tragedy occurred in Brovary, Kyiv region. A SES (state emergency services) helicopter crashed, and a fire broke out at the crash site. The pain is unspeakable," he said in a statement on social media. 
Shmyhal said the death of Monastyrskyi and two other senior officials was a "great loss" for the country.
"My sincere condolences to the families of all the victims. I instructed [officials] to immediately create a special group for a detailed investigation of all the circumstances of the tragedy," Shmyhal said on Telegram.
EU chief Charles Michel also offered his condolences. "We join Ukraine in grief following the tragic helicopter accident," the president of the European Council said, in a message posted to social media.
Meanwhile, German Chancellor Olaf Scholz said that the helicopter crash showed the "immense toll" Ukraine is paying in the war against Russia. 
"Our thoughts on this sad day are with the families of the victims and the injured, and with Zelenskyy, who lost his interior minister today," said Scholz on Twitter.
German Interior Minister Nancy Faeser had also sent her condolences to the Ukrainian government "and offered Germany's support in identifying the causes of the helicopter crash."
Ukrainian Interior Minister Denys Monastyrskyy was killed in the helicopter crash in BrovaryImage: Sergei Supinsky/AFP/Getty Images
Here are other updates on the war in Ukraine on Wednesday, January 18:
US ammunition stored in Israel delivered to Ukraine
The United States is making use of its large ammunition stocks held in Israel to supply Ukraine with artillery shells, The New York Times reported, quoting US and Israeli officials.
According to the report, the stockpile of US munitions in Israel dates back to the 1973 Yom Kippur War, when the US airlifted military supplies to Israel. After the war, warehouses were set up in Israel for use in a future crisis.
About half of the 300,000 rounds destined for Ukraine have already been shipped to Europe and will eventually be delivered through Poland, the report said.
Ukraine is believed to be going through around 90,000 artillery shells a month, equivalent to twice the rate of manufacture in the US and its European allies combined. Stockpiles in both Israel and South Korea were being used to fill the gap, the report said.
An Israeli military spokesman confirmed to German news agency DPA that equipment stockpiled in Israel had been transferred to US forces a few weeks ago at the request of US officials.
The New York Times said that Israel had "initially expressed concerns" that relations with Moscow would be harmed if it appeared complicit in arming Ukraine.
Separately, a journalist from KANN TV tweeted that a senior official from Israel's Ministry of Defense will participate in the Ukraine Defense Contact Group meeting at the Ramstein military base in Germany.
Israel has thus far refused to supply weapons to Ukraine for its own security reasons. Russia is deeply involved in Syria, its northern neighbor, and Israel is keen to prevent Iran from extending its influence through the Hezbollah militia active in the region. Israel also has sizable populations from both Russia and Ukraine, many of whom arrived following the break up of the former Soviet Union.
Russian soldier killed after deserting from fighting in Ukraine
Russian authorities announced that an armed Russian deserter fighting in Ukraine who left his base was killed.
"Dmitry Perov, wanted for the unauthorized abandonment of his military unit, was found and liquidated," the government of the Lipetsk region, in western Russia, said on social media.
"The situation is under control," it said. "There is no threat to residents. Investigations are under way."
A local branch of the state VGTRK television network said the man was 31-years-old and had fled "the zone of the special military operation" in Ukraine.
It published a search notice that said he fled Ukraine on January 13 armed with a rifle and grenades, and that he could be headed for his native village.
There have been several cases of desertions among Russian soldiers fighting in Ukraine in recent months.
Four detained at Moscow memorial for Dnipro victims
Russian police have detained four people at an improvised memorial for at least 45 people who were killed by a Russian strike on a residential building in Ukraine's Dnipro, the OVD-Info rights group said.
AFP journalists earlier this week saw a handful of people laying flowers and children's toys at a statue of Ukrainian poetess Lesya Ukrainka in the Russian capital.
The OVD-Info rights group, which monitors arrests in Russia, said two people were detained as they lay flowers at the statue. "Two others who were nearby were also detained," the group said.
Russia has introduced strict laws that effectively ban criticism of its offensive in Ukraine. The Kremlin has denied striking residential areas in Ukraine. 
Lavrov compares US to Hitler and Napoleon
Russian Foreign Minister Sergei Lavrov tipped his hat to failed invasions and said the recent actions of the US following Russia's stalled invasion of Ukraine could be compared to earlier invasions of Russia by Adolf Hitler in the twentieth century and Napoleon Bonaparte in the nineteenth century.
At his annual news conference, Lavrov said, "The United States, through Ukraine by proxy, is waging a war against our country with the same task: the final solution of the Russian question."
Russia previously said that "denazification" was a major goal of its invasion of Ukraine. The "final solution" refers to Nazi Germany's mass extermination of Jewish people that was decided at the Wannsee Conference in the Berlin suburbs in January of 1942. No such analogous plans have been made for Russia anywhere, whereas Ukrainian and other critics of Russia's invasion charge Russia has engaged in genocidal actions and war crimes against civilians there.  
In his latest historical analogy, Lavrov attempts to place the status of his country's failed invasion on the US. Last year, Lavrov previously tried to argue that Hitler was Jewish, to vociferous objections from the Jewish community worldwide and the Israeli government in particular.
Moscow also said it had yet to see any serious proposals for peace in Ukraine and that Ukrainian President Volodymyr Zelenskyy's own ideas on the subject were unacceptable. Lavrov said Moscow stood ready to discuss the conflict with Western countries and to respond to any serious proposals, but that any talks needed to address Russia's wider security concerns.
Scholz and Zelenskyy to address World Economic Forum in Davos
German Chancellor Olaf Scholz and Ukrainian President Volodymyr Zelenskyy will deliver today the most high profile speeches at this year's Davos forum.
Zelenskyy is readying for a second year of war against the invading Russian forces. Ukraine has made major battlefield gains, but heavy battle tanks are considered vital to recapturing Russian-occupied territories.
So far, however, Ukraine has received only Soviet-made tanks that were in the inventory of Eastern European NATO countries. Berlin has so far refused to send the sophisticated German-made Leopard 2 tanks, despite a growing chorus of appeals from Kyiv and NATO allies.
Scholz's government had cited the fact that other allies have not handed over modern tanks to Ukraine either. But that position is now on shaky ground after Britain and Poland recently announced they would deliver heavy battle tanks and an earlier pledge by France to send "light" tanks.
Ukrainian military says Russia shelled dozens of sites in east 
The General Staff of the Ukrainian Armed Forces said Ukrainian and Russian forces exchanged fire on the eastern frontline, where neither side has advanced much in recent months.
Russian forces launched four missile strikes, including two on civilian targets in the city of Kramatorsk in Donetsk region, west of the two focal points of fighting, the towns of Bakhmut and Avdiivka, the military's report said.
Russian forces also launched 13 air raids and 23 shelling attacks from multiple rocket launchers, it said.
dh, rs/ar (Reuters, AFP, AP, dpa)