Russian President Vladimir Putin and Chinese President Xi Jinping's meeting this week in Moscow came amid speculation from analysts that Bejing could begin assisting the Kremlin more directly in its war on Ukraine.
"We are now witnessing the changes that haven't been seen for more than a century, and we are pushing them together," Xi told Putin through an interpreter, Associated Press reported, as they said goodbye at the Kremlin. "Take care, dear friend!"
However, one photo shared online as the pair met this week, appeared to show a more servile relationship, with Putin bent on both knees in front of Xi.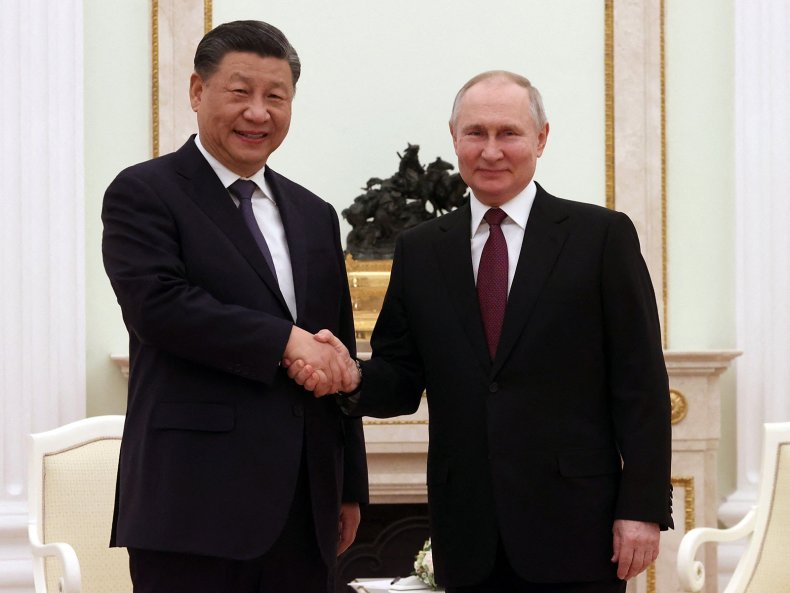 Russian President Vladimir Putin meets with China's President Xi Jinping at the Kremlin in Moscow on March 20, 2023.
SERGEI KARPUKHIN/AFP/Getty Images
The Claim
Multiple tweets, posted on March 20, 2023, included a photo claimed to show Putin bending on both knees in front of Xi.
User @GlasnotGone posted the photo, on March 20, 2023, which was viewed 60,000 times, with the tweet "Putin giving Xi Jinping a traditional Russian welcome – it didn't last long, because Putin's knees were hurting."
Another tweet by @SniperFella, posted on March 20, 2023, viewed over 89,000 times said: "BREAKING #Putin down on his knees, swearing obedience and loyalty to his master and commander #Xi"
The Facts
The image began picking up attention after Kyiv Post reporter Jason Jay Smart tweeted it on March 20, 2023. The tweet, viewed more than 750,000 times, stated: "PUTIN 🇷🇺- XI 🇨🇳 MEETING
"Putin attempting to persuade Xi."
Smart told Newsweek that he had flagged that the image was fake.
In a thread beneath the original tweet, Smart wrote: "From the comments, it appears that it wasn't obvious to some: yes, Putin is on his knees to whatever desires Xi has, but no, this photo isn't a representation of him 'sucking-up,' per se."
Smart said the image "was popular in Ukrainian social media", and provided Newsweek with a link to a Ukrainian Telegram post, that he thought was the origin, published shortly before his message on Twitter.
"It may have well appeared in other places, as I saw it at least 3-4 times before posting it" he added.
A Deepl translation of the Telegram post—published on March 20, 2023, and viewed 307,000 times—indicated that the image was photoshopped. Indeed, it appears the photo was AI-generated.
Firstly, there are several odd artifacts in the photo. For one, Putin's bent foot appears distorted and distended in an unusual shape.
As some have pointed out on social media, the hands of a figure in the background also appear blurry and melted into one another. Hands are typically difficult for even modern AI to replicate accurately.
On the left side of the photo, a table leg is bent oddly out of proportion which, although could be part of its design, appears to be a quirk of AI processing.
Of what photos were taken of Xi and Putin's talks, none appear to be in the room shown in the picture.
While it's possible the photo shared on social media could have been taken elsewhere, and not captured by the press, the security surrounding the pair's encounter is unlikely to have provided the opportunity for candid photography, let alone for that photo to have leaked online.
Furthermore, neither mens' faces are visible in the photo. "Putin" is completely out of shot while the image of Xi is so blurry as to be only vaguely recognizable.
The image was not credited to any photographer or agency either, only shared across Twitter with no other similar photos in that series.
Journalist Amanda Florian also noted that by using photo analysis tool Hugging Face, the picture contained several elements that indicated it was an AI forgery.
"Xi's hair has some irregular noise and blurriness, which is usually a good indication that an image is GAN-generated. If you look carefully, you'll also see the slightly hooded ear on Xi and some irregular bumps on Putin's ear," Florian tweeted.
As mentioned earlier, there is a slim possibility that the photo could have been taken in another room or is an AI-generated photo of a similar encounter.
However, based on the combined irregularities and the lack of evidence to otherwise prove that the photo is authentic, there is no credible reason to believe that the picture is real.
While the photo is almost certainly fake, the notion that the relationship between Putin and Xi is "lopsided" has been supported by experts at the Institute for the Study of War (ISW).
The ISW, which has been tracking the movements of the Russian and Ukrainian military since Putin's invasion, wrote that China made only "relatively tempered" commitments compared to Russia.
In its latest assessment, the ISW said that the "Joint Statement outlines a variety of bilateral intentions and affirms the commitment of Russia and China to each other's state sovereignty and territorial integrity, among other diplomatic promises.
"The commitments made by Xi and Putin were notably lopsided, however, indicating that Xi is agreeing to a more reserved version of Russian-Chinese relations than Putin likely desires."
The Ruling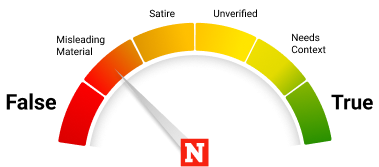 Misleading material.
While Xi and Putin met this week in Moscow, the photo appears to be an AI-generated forgery.
There is no evidence that confirms the provenance of the photo, neither Putin nor Xi can be seen clearly, the room in the picture can be seen nowhere in official photography of their meetings, and there are a number of elements and artifacts in the photo that strongly suggest it was AI-generated.
FACT CHECK BY Newsweek's Fact Check team