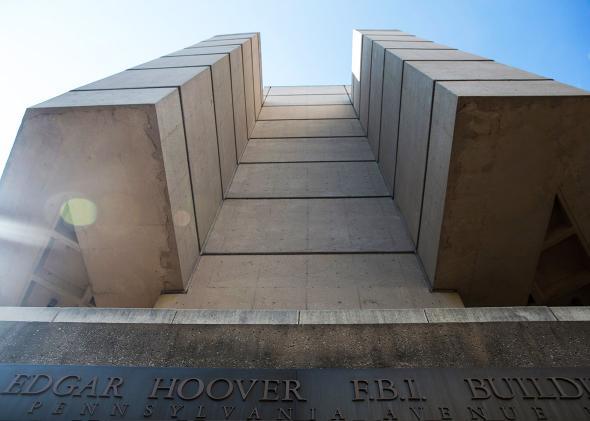 When Democrats reacted to FBI Director James Comey's letter to Congress about the sort-of-reopened investigation into Hillary Clinton's private server by accusing Comey of trying to meddle in the election on behalf of the Republican Party, the accusation seemed far-fetched. Comey was, until last Friday, generally despised by Republicans for his earlier decision to recommend against prosecuting Clinton. But while there's been of yet no evidence revealed that Comey himself has an ax to grind, a number of data points have emerged indicating the presence of a politically motivated anti-Clinton faction within the agency.
For one, leaks keep coming out of the FBI that are unflattering to Clinton. First there was the revelation that the Clinton emails the FBI is currently checking for classified info came from Anthony Weiner's computer. (A good rule of thumb is that no political candidate wants his/her name anywhere near a headline that also involves the notorious A-Weens.) Then there was a story on Fox News (and a much more measured one in the Wall Street Journal) about the existence of an investigation into potential corruption at the Clinton Foundation. And the FBI also tweeted about a document release related to Bill Clinton's controversial pardon of Marc Rich.
On a parallel track, there was a report Thursday in the Guardian about FBI agents actively supporting Trump:
"The FBI is Trumpland," said one current agent … The currently serving FBI agent said Clinton is "the antichrist personified to a large swath of FBI personnel," and that "the reason why they're leaking is they're pro-Trump."
Longtime Trump expert Wayne Barrett wrote Thursday in the Daily Beast, meanwhile, about the connections between Trump and the FBI. The FBI Agents Association—a unionlike 13,000-member group—has close ties to Rudy Giuliani, a top Trump surrogate, and Giuliani has said on Fox News that he's in touch with current agents who are upset about Comey's decision not to prosecute Clinton. A former agent named Jim Kallstrom has appeared on Fox several times saying the same thing; Kallstrom's Marine Corps Law Enforcement Foundation has received funding from Trump and the Trump Foundation, and one of its directors is Rush Limbaugh.
The Guardian piece notes that other sources besides its quoted agent "dispute the depth of support for Trump within the bureau." And Barrett is writing only about Trump allies making claims of connections to current agents; we don't know whether those connections are in fact as strong as Giuliani and Kallstrom make them out to be, or whether said agents are upset about the Clinton email situation specifically because they support Trump. But when you combine the Guardian/Barrett reports with the kind of leaks that are coming out, Democrats' dark suggestions about the FBI's motives start to sound less like the reflexively defensive innuendo they at first seemed.