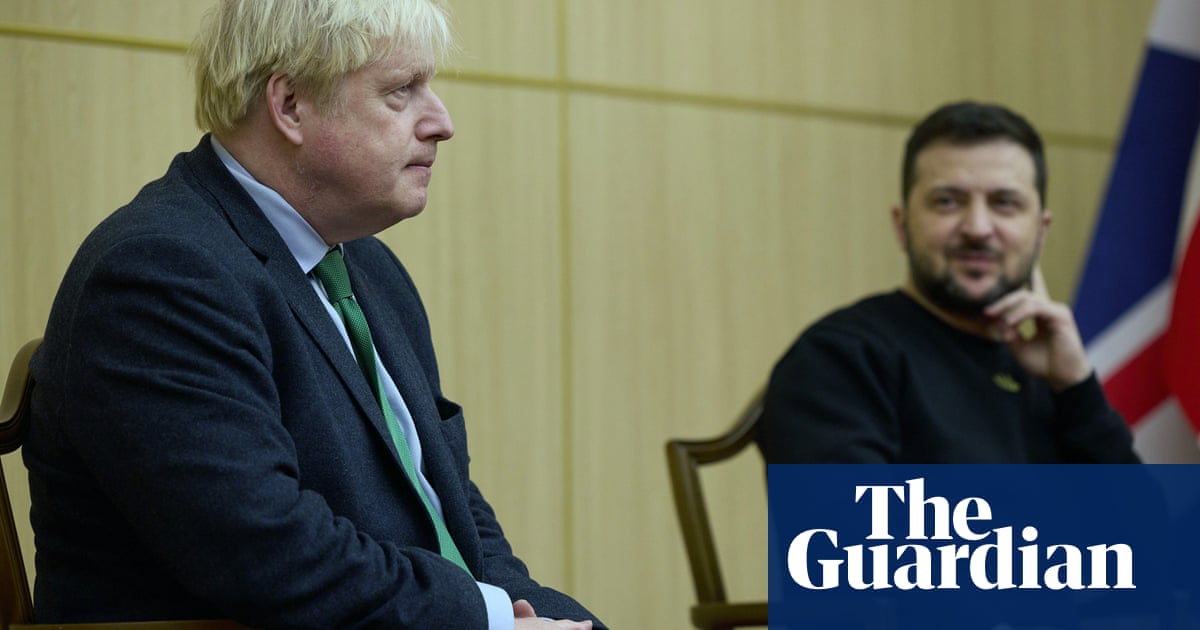 Boris Johnson has called for Ukraine to be admitted to Nato and launched a thinly veiled attack on Germany and the US over the failed deal to donate tanks, after a return to Ukraine this week.
The former prime minister, who is under pressure over a loan agreed while he was in No 10, wrote an article for the Daily Mail calling for western countries to step up efforts to arm Ukraine.
He warned that Russia was planning a new "counter-punch" offensive in the spring, which needed to be forestalled. "The Ukrainians need hundreds of tanks, and they should be getting them from the Americans, the Germans, the Poles and many others," Johnson said.
"Where does the western world need to station those tanks at the moment? Guarding North Rhine-Westphalia? Protecting Tennessee? Prowling the villages of Wiltshire?
"So let me pose the question again: what conceivable grounds can there be for delay? Why are we not giving the Ukrainians all the help that they need, now, when they need it?"
Johnson also gave his most emphatic support yet to Ukraine joining Nato, a move about which he had expressed caution as prime minister. "What is the result of our decades-long failure to live up to our promise and admit the Ukrainians to the shelter of the Nato defensive umbrella?" he wrote.
"The result is the bloodiest war in Europe for 80 years. For the sake of clarity and stability and long-term peace, it is now clear, which it wasn't before Putin's invasion, that Ukraine must join."
Johnson also issued a tacit rebuttal to the language used by the German chancellor, Olaf Scholz, who alluded to concern that the war should not escalate into a Nato-Russian conflict.
"The Ukrainians can rely on our support for the courageous fight, but it is also clear that we will avoid that this is becoming a war between Russia and Nato," Scholz said.
In an apparent rejoinder, Johnson wrote: "Don't talk to me about 'escalation', or the risk that we will somehow provoke Putin, by increasing our support, to some fresh horror," he said.
Archie Bland and Nimo Omer take you through the top stories and what they mean, free every weekday morning
Privacy Notice: Newsletters may contain info about charities, online ads, and content funded by outside parties. For more information see our Privacy Policy. We use Google reCaptcha to protect our website and the Google Privacy Policy and Terms of Service apply.
"Will he escalate with a battlefield nuclear weapon? Really? I don't believe it for a second. If Putin were so insane as to go nuclear, he would in a trice lose all the world's swing voters – from Africa, the Middle East, Asia – who are currently willing to cut him so much slack. He wants to make us talk about nuclear weapons, because he wants to portray his war of choice as a standoff between Nato and Russia.
"It is no such thing. It is a brutal and unprovoked attack on a blameless European country, and all Ukraine's friends are doing is to help that country defend itself."