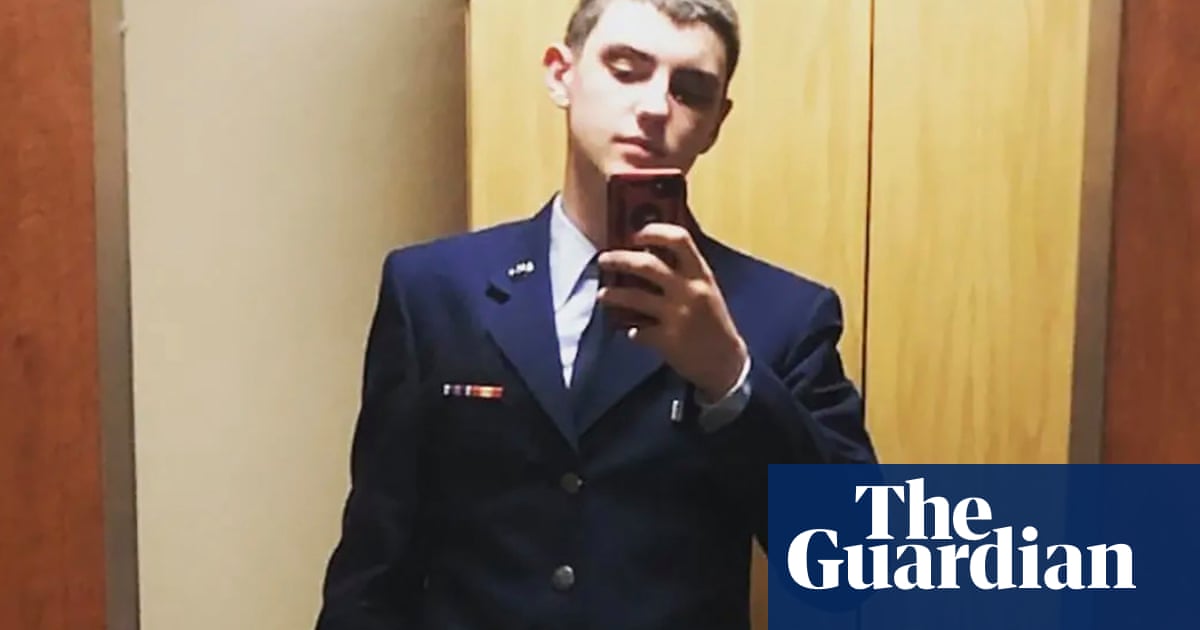 In photographs, Jack Teixeira, the 21-year-old air national guardsman who has been identified as the prime suspect in the leak of classified intelligence documents, is slim in his dark blue air force uniform. He is youthful looking, barely older than the teenage friends seen in the online group in which the classified documents were leaked.
On Thursday evening, the FBI arrested Teixeira and were searching his home. Video footage from a local TV station showed him being led away in handcuffs.
Teixeira was identified by the New York Times as the leading figure in an online gaming chat group, Thug Shaker Central, on the social network Discord. The details that have emerged about Teixeira have put him in the frame as a person of interest in the leak investigation.
Deployed in the 102nd intelligence wing of the Massachusetts air national guard, Teixeira was also a key member of a group of about 30 people who shared an interest in guns, video games and racist memes.
Teixeira, the newspaper suggested, was the individual known to members of the group as OG, who had been identified a day earlier by the Washington Post as the leaker.
Assembled at the height of the pandemic in 2020, Thug Shaker Central was an invitation-only chatroom.
It appears that from the beginning, the leaker sought to impress its young members, writing messages heavy with acronyms and jargon, posting classified documents, at first typing up verbatim transcripts and then leaking actual documents – which appeared to have been physically removed from a secure place and photographed.
According to the Washington Post, OG told other members these were documents he had brought home from a "military base" where he sometimes worked in a secure facility that prohibited mobile phones and other electronic devices.
Underlining the suspicions that the person may have been Teixeira, the New York Times said details of the interior of his childhood home, posted on social media in family photographs, matched details on the margins of some of the photographs of the leaked secret documents.
Suspect behind leak of Pentagon documents arrested, says US attorney general – video
Interviewed by the paper, Teixeira's mother, Dawn, confirmed that her son was a member of the air national guard and said that recently he had been working overnight shifts at a base on Cape Cod, and in recent days he had changed his phone number.
A number for Bayberry Farm and Flower Co, a flower business believed to be owned by Jack Teixeira's mother, went to voicemail. A message said the business is closed this week.
The company is based at the same North Dighton, Massachusetts, address where Teixeira is understood to live. It is owned by Dawn and Tom Dufault – public records show that Dawn Dufault was previously known as Dawn Teixeira.
The company's Facebook page had mentioned Jack Teixeira in June 2021. "Jack is on his way home today, tech school complete, ready to start his career in the Air National Guard!" a message said, under a photograph of a "Welcome home" balloon.
Teixeira's career in the national guard progressed. A photo posted to the Facebook page for the 102nd intelligence wing of the Massachusetts air national guard in July 2022 congratulated him on an apparent promotion to Airman 1st Class. The post was still live on Thursday afternoon.
As the US has followed a trail to Teixeira's home, the question of what might have motivated the leaker has become ever more pressing. The reverberations of the leak have spread from Kyiv to Seoul and to other global capitals, and left onlookers shaken by the hugeness of the leak and by evidence that the US has been spying on its allies.
The explanation furnished by members of the chat group has been startlingly mundane. The leaker, they insist, was not a whistleblower but a young man who wanted to show off to his young friends with the documents never intended to leave the chat group.
"He's a smart person. He knew what he was doing when he posted these documents, of course. These weren't accidental leaks of any kind," one member told the Washington Post.
But leak out they did. First as they were cross-posted on other social media channels and then as they were picked up by Russian channels.
Group members said OG would lecture them about international affairs and secretive government operations.
"This guy was a Christian, anti-war, just wanted to inform some of his friends about what's going on," said one acquaintance. "We have some people in our group who are in Ukraine. We like fighting games, we like war games."
But there was a darker side to OG too. In a video seen by the Washington Post, a man identified as OG is seen at a shooting range with a large rifle, making racial and antisemitic slurs on camera.
As the investigation has closed in on the culprit, serious questions have been asked about the latest highly embarrassing leak of US intelligence.
Perhaps top of the list is how someone so young and emotionally insecure, and with racist and anti-establishment views, could have been allowed access to a site containing highly classified intelligence.
Equally shocking, as the story is emerging, is how that individual was able to remove classified material from a secure site without raising suspicions.
In a pointed tweet, Tom Nichols of the Atlantic, who himself had security clearance for 35 years, said: "I hope this guy isn't the leaker, because I'm gonna have some questions about how a Mass Air Guard guy got CJCS [Chairman of the Joint Chiefs of Staff] briefing slides."
Additional reporting by Adam Gabbatt in New York